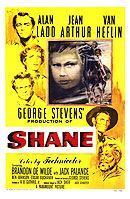 The Searchers
1956, 119 min.
Directed by John Ford
Shane
1953, 118 min.
Directed by George Stevens
Yuck. I'm normally a fan of rain, but today's downpour left a lingering humidity in the air. It was feeling mighty tropical out there, and I was ready for some escape.
Entering the theatre was like an respite from the humid Amazon-like atmosphere. Luckily, there was a special event today that would further remove me from the yucky summer afternoon. "
The Spoiled Doves of Texas
" were there to set the mood. Saloon gals, cowboys, and riverboat-style gamblers were awaiting. I gotta admit, it was pretty darned exciting. Like a beam of sunlight through the clouds, they made me forget all about the rainy day.
Full writeup of the films is a work in progress...
Check back soon for the complete blog entry!