To Wong Foo Thanks for Everything, Julie Newmar
1995, 109 min.
Directed by Beeban Kidron
"When a straight man puts on a dress and gets his sexual kicks, he is a transvestite. When a man is a woman trapped in a man's body and has a little operation, he is a transsexual. When a gay man has way too much fashion sense for one gender, he is a drag queen."
-Noxeema Jackson (Wesley Snipes)
(They say a picture is worth a thousand words, so I'll do my best to be brief.
If you want to jump to the photos, scroll to the bottom of this blog post.
)
I'll be honest, I didn't know what to expect when I walked up to The Paramount Theatre on Thursday night. Over the past few weeks I had grown accustomed to films being screened, to special events and kick-off parties. But tonight was looking to be something far more grand. It wasn't just a screening, after all.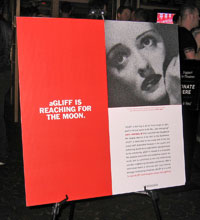 This was the 2nd annual Majestic Party at The Paramount Theatre. The screening of
To Wong Foo Thanks for Everything, Julie Newmar
was to take place at 8 pm, followed after by a dance party and costume contest and special surprises. Sounds like fun to me!
I got there and already there was a very healthy-sized crowd. The lobby was filled with people mingling and bidding on the silent auction items. Venturing towards the stairs, I was greeting by a caped guardian (hmmm. Perhaps "stair bouncer" would be an apt label too). The upper levels were for VIP ticket holders, but I asked Timothy (the caped crusader) if I go upstairs to document. He happily let me pass. Seriously, I was expecting to have to argue a bit, but Tim was one of the nicest and coolest people I've met since I've moved to Austin.
The lounge upstairs had a photo booth and snack bar. The photo booth was a backdrop and a long table of accessories to complete a myriad of fun costumes. The snacks were provided by
Lick It Bite It Or Both
, a newly opened cupcake shop that I must say makes some
damn good
little treats. I was convinced to try a red velvet cupcake (after about a whopping 0.8 seconds of arm twisting). It was hella yum.
Glancing at my watch, I saw time was short. (How do I always do this?) Rushing to take my seat, I sat as Ken Stein took the stage and welcomed everyone. He was joined by Skot Tulk, executive director of aGLIFF. Skot thanked everyone for their support, and introduced a special treat.
Before
To Wong Foo
, a short animated film was shown. "
Dear Dad, Love Maria
" is a haunting and beautifully made film about a boy who has the strength to fulfill his destiny and writes a letter to his estranged father. It is not so much a tale of metamorphosis; rather a story of self-recognition. A story about the bravery to take flight with the wings forged of determination.
Not available in its full length online, I have discovered a link to its trailer. This will allow you to get a proper sense of this powerful animated gem.
While it is very well-made and poignant, its somber tone was a bit of a buzzkill. Ken came back out and assured us that the fun was about to start again. How right he was. And with that,
To Wong Foo
began.
The film is more of a cult classic than a cinematic masterpiece, but I must admit it was fun to watch with this audience. A rather simple story that is anchored by some fun and memorable performances, the one thing I was most amazed by was the three leads. Patrick Swayze, Wesley Snipes, and John Leguizamo never came across as a parody or foolish at all. More impressive was the fact that the trio were passable as their female visages.
I recall from poster art and trailers how ridiculous I originally thought these guys appeared; Snipes in particular. Watching the film though, I realized that their costumes and makeup (in a weird way) worked. Patrick Swayze evokes a certain Coco Chanel kind of charm, almost erasing bad memories of
Roadhouse
and
Ghost
.
Wesley Snipes (who is NOT pretty, yet still convincing) is a hybrid of Angela Bassett, Eartha Kitt and Tina Turner. Snipes also has most of the best comedic lines, and his "oh no you di'int" attitude is amusing to watch. As ugly as Wesley is, he makes a much better lookin' woman than Martin Lawrence ever did. What? Don't remember Sheneneh from the old TV show? I'll give you a sec to go google it... Did ya do it? SEE?!?
And Leguizamo? He looks like Rosie Perez's ugly sister. A boricua with a punk-ass attitude and horrendous makeup, he also resembles an undead Carmen Miranda, complete with a matching ghost's palor. Swayze and Snipes take Leguizamo under their wing to make him a proper lady, but Leguizamo's repeatedly rude behavior makes it hard for us (and for Snipes) to be patient with such a transformation. We want to just shout at the screen "Grow up, dammit!" In many ways, Leguizamo's character of Chi Chi foreshadowed the arrival of J-Lo a couple of years later, so we could all shout the same thing at our television screens.
Sure, it's not of the same caliber as
Priscilla, Queen of the Desert
, but
To Wong Foo
isn't a complete waste of time. It's a light comedy that, when viewed with the right audience, can be quite a good time. And let me tell you, this was a
fun
audience. They laughed, booed, whooped and hollered. It was a raucously awesome movie experience.
At the film's conclusion, Ken came back out and thanked us again as the curtain raised. And with that, the party began! The next few hours were filled with lights, drinks, dancing, costume contests, drag queens, go go boys, and lots and lots of mirth. Oh, what a night!
Okay, I've blabbed long enough. I took about 200+ photos, and I selected 85 for your enjoyment. So that's about 85,000 more words, according to the old expression.
Below is the slideshow from my Picasa account. Enjoy!!
Follow to the Picasa set and see the photos in larger sizes.