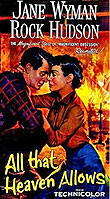 All That Heaven Allows
1955, 89 min.
Directed by Douglas Sirk
Imitation of Life
1959, 124 min.
Directed by Douglas Sirk
As a self-proclaimed movie buff, I am ashamed to admit that I had not seen a film by Douglas Sirk. Worse, I couldn't really explain
why
. I know they have a distinct visual style, but I think perhaps I had been put off by the inherent melodrama I came to expect from his movies. They all appeared (to me) to be heightened soap operas, and frankly it wasn't selling me on the concept. Nevertheless, I knew it was a gap in cinematic appreciation I could postpone filling no longer. Luckily for me, the evening's screenings was a twin bill of Sirkian delights. I guess if I had to see them, this is the way to do it...
Full writeup of the films is a work in progress...
Check back soon for the complete blog entry!